Just before their live performance with Sycorax in Athens at 26/10 @ Death Disco White Ring gave us an interview
Does your name come from the german christian fraternities?
No, but it's kind of a similar concept.
What about the relationship of white ring with the religion and occult?
I don't really want our music to be overtly anything but I think a lot of our message lays at the crossroads there between god and the hidden meaning of existence. I don't want to act like I'm trying to be like a prophet or some shit though, I just think think we all need to accept pain and I want to make it more palatable and maybe demystify it a bit.
Bryan, you have travelled from New Orleans to New York in order to form the band. Was it a life changing journey?
For sure, I've always liked taking big leaps of faith like that. Some people see it as reckless but it's what allows me to grow.
Many people love "black earth that made me" would you play tracks of it during your performance in athens?
Sometimes we will throw in Roses as an encore but I never want to be a band that "plays the hits". We almost always go heavy on the side of playing new and unreleased stuff.
Your sound has played a major role in developing the first wave of witch house. Since some years the hype faded but your music still sounds unique and you have a following, signs that you show that you werent trapped in a label. How do you feel about this?
It's a weird problem to have but I guess a good one. I think one of the main indicators of being an authentic band is that a genre just kind of forms around you and that's kind of what witch house did. I think witch house works better as a vague concept than a set of strict rules. It's all so nerdy though, like when I started conceptualizing more of what witch house was and I would hear it in my own music I would throw it away. I don't like stuff like that.
You havent released new songs for years. What has happened?
I was a drug addict and had mental problems too, I was homeless sleeping on the streets in LA and broke my laptop, so many other things, it was a very chaotic time in my life from 2012-2016. I had to rebuild my entire life first then I started working on the band again. Since then Adina joined the band and we put out Gate of Grief in 2018, earlier this year we released a mixtape Chained volume 2 and we just released a two song single Slow Burned. Lots more to come.
I love the use of the voice cause it is haunting and also powerful. The synthlines many times follow the same melody and have a similar timbre. In which way do you compose your music?
I usually make a melody first on synth and build around that. I really like a good bass line melody but I'm trying not to be so precious with that lately and just do what's best for the song.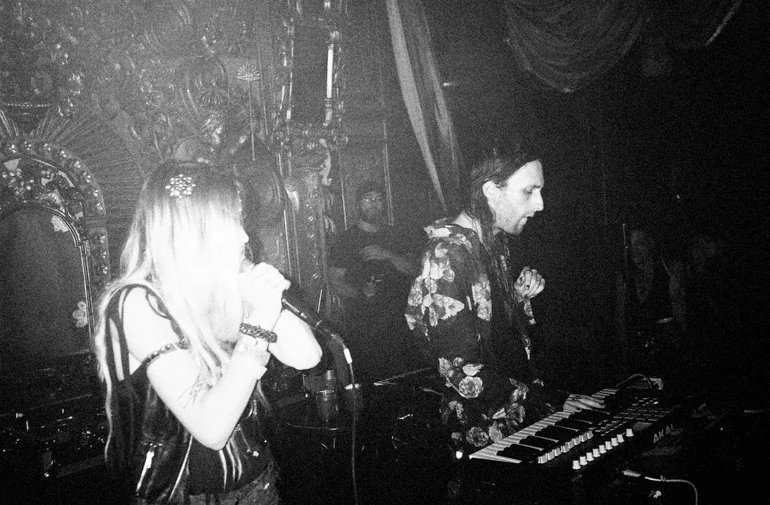 Tell us some movies,books or situations that inspired you.
Inspiration is a weird thing, I think about this a bit and I always seem to get asked this question. I consume a lot of media but I don't really think the inspiration comes from there. I like youtubers like styxhexenhammer666, especially his occult stuff in regards to my art and I feel like I get a lot of value out of it but it's not directly inspiring me to write music, I don't think anything really does. I do think it keeps my mind in shape to draw inspiration from within though. Weirdly I think going skating is kind of the most directly inspiring to me because you enter a similar kind of "flow state"
Can you describe us your best and your worst live performance until now during your tour?
No
If you had three wishes that would be fullfilled what would these be?
First wish everyone now knows god is real, second wish I get a gun, third wish no more magic wishes.
Your music has gained visibillity through youtube. I think that the internet helped a lot the promotion of "introvert" music. Which way do you prefer promoting your art?
Yeah , the internet helped decentralize physical music scenes but now its kind of more centralized than ever in the way people are consuming music currently and I kind of think that's way worse. Promote yourself on non established platforms that you believe in though and everything will work itself out.